ID: awjinnovation

e-mail: sales@awj.co.th

02-115-8118

จำหน่าย - ติดตั้ง - เช่า - ซ่อม - สอบเทียบ - Service Contract Gas Detector, CEMS, Calibration Gas, System Components

Direct line: 092-275-7369, 081-917-8991, 091-996-6259
I About Us I Products I Service & Calibration I References I Q & A I Contact us

I
เครื่องวัดคุณภาพอากาศในบรรยากาศ AQMS

------------

AQMS Air Quality Monitoring Systemand Odor monitoring


Crowcon Odor Monitoring AMG-1000 and AMG-2000
Crowcon ผู้ผลิตเครื่องวัดก๊าซจากประเทศอังกฤษ ขอนำเสนอ Odor Monitoring AMG Pro เป็น เครื่องวัดกลิ่น แบบติดตั้ง สามารถเชื่อมข้อมูลและตรวจวัดกลิ่นได้หลากหลาย มีการเก็บข้อมูลในเครื่อง สามารถวัดกลิ่น Odor และก๊าซพิษอื่นได้ เช่น VOC,SO2, NH3, H2S ตลอดจนทิศทางลม และความเร็วลม สามารถเชื่อมโยงข้อมูลกับหลายๆจุดเพื่อคำนวนค่าการวัดกลิ่น และแหล่งกำเนิดกลิ่นได้ ในรูปหน่วยการวัดกลิ่น OU
Can detect a variety of odor gases
Continuous on-line monitoring
Suitable for various industries
Strong durability and stable detection
Stand alone system
Easy to deploy and set up on site
Able to make changes to configuration according to site requirement
Able to accommodate different gases Incorporate weather data e.g. wind speed, temperature, RH.
Remote monitoring and 3D dispersion modeling
Optional AMG online monitoring software
Optional weather station
Detection of odor concentration, hydrogen sulfide, ammonia, methyl mercaptan and other gases.
Optional weather station to record temperature, RH, atmospheric pressureind speed and direction configurable according to customer requirement
Anti-corrosion design to ensure no corrosion and adsorption of gas
Automatic pressure relief protection function to avoid pressure from causing error in reading due to changes in pressure.
Modbus communication protocol with remote reset and configuration function.
GPRS wireless module configuration with optional cloud data storage
Output includes real-time concentration, system working state and other parameters.
Optional trending report and output file.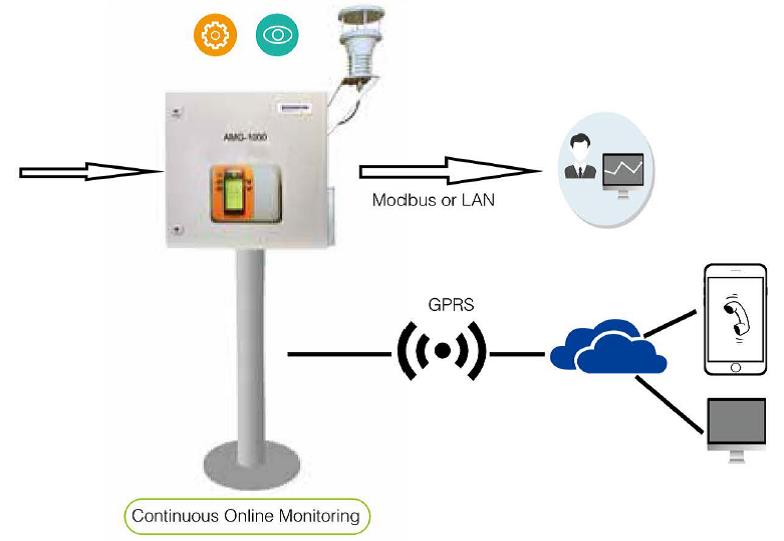 Crowcon gas detector Crowcon gas detector Crowcon gas detector Crowcon gas detector Crowcon gas detector Crowcon gas detector Crowcon gas detector
GM GM GM GM GM honeywell honeywell Oldham Oldham Oldham Oldham Detronic Detronic Detronic Detronic Detronic Cosmos Cosmos Cosmos Cosmos Cosmos
 AWJ Innovation Co.,Ltd.© 2019. All Rights Reserved